Need a Banner? Order Now . . .

Option 1: Design Online Now
(Online Banners)
Option 2: Upload Design Now (Custom Banners)
Option 3: We'll Design Your Banners (Text Banners with Optional Image/Logo)
It can sometimes feel like a lot to take on when you see the list of things you need to consider when designing a vinyl banner. But in all honesty, once you grasp the different factors and apply them to your needs, you reap the benefits of the time you spent in more ways than you could imagine.
Having been in the banners' market for more than 30 years, the 1 Day Banner team thought it was about time to share some tips on designing your banner! We've long been catering to the needs of diverse customers and have basically seen it all, so here's your buyer's guide and FAQ to get you started on the right foot.
Design Type
With 1 Day Banner, designing your banner comes in three types: 1) Online designs through our website, enabling you to custom make your design on the spot, 2) Upload your own ready-to-print design. We accept software-made designs using Adobe Illustrator and similar software, but check the 'Artwork Specifications' section on the Custom Banner product page for the current file types we accept and 3) We'll design for you. You specific the text/image and we'll create a simple design for you.
Online Designs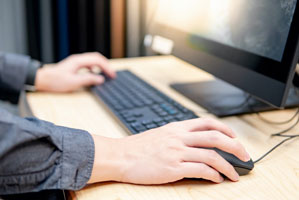 Our online designs are available for banner sizes up to 10 feet high x 30 feet long, and they're made of premium 13-ounce vinyl material. Since they're waterproof and UV protected, you can use the banners both indoors and outdoors for up to 3 years. And the cherry on top is that they get shipped in one day in high-quality!
We made sure to focus on keeping the designer easy-to-use and incredibly user-friendly so that you don't have to worry about using sophisticated software – you simply add your text and can also choose from thousands of clip art to add as well as upload an image or logo of your own. You also get to choose between single-sided and double-sided banners.
Uploaded Designs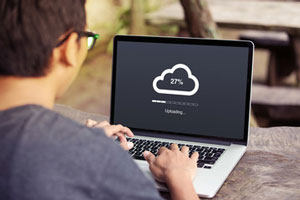 While you'll find a lot of platforms offering you the option to upload your designs, we go the extra mile of offering you a design evaluation. If you'd like to know whether your design is printable, its cost, and the available shipping methods or costs, that's an option! Send us your single-sided and double-sided banners, posters, and magnetic signs for an evaluation.
Referred to as custom banners, uploaded designs are 100% designed by you, and we print them up to 10 feet high and 30 feet long. Just make sure to meet the artwork specifications before uploading them.
Ultimately, the difference between uploading your own design and creating it online is that custom banners have a sense of "individuality" to them – they're not monotonous but rather unique and creative, which is why customers are more likely to stop to read them.
Single or Double-Sided
As their names imply, single-sided banners are those with printing on one side, while double-sided banners are those with the image on both sides. Naturally, the choice between both depends on your needs.
Single-Sided
If you're hanging a banner on a wall or corner, you don't need anyone to see the back, so single-sided banners would work in this case.
Double-Sided
Double-sided banners are the best option when you're advertising in outdoor areas, open spaces, art expositions, and similar locations. It's also worth mentioning that the printing doesn't necessarily have to be the same on both sides; you could also have different prints on each side if you need to post a lot of information.
It goes without saying that double-sided banners provide much better visibility and reach, especially since they're readable whether you're coming from the back, front, or any angle.
Banner Size
Choosing your banner size is one of the most important aspects of the process. With 1 Day Banner, you can choose from over 200 sizes, ranging from 2' x 4' up to 10' x 30'. While there are no constraints or standards on which sizes to choose, we can give you the most common sizes as a benchmark. Below are some common sizes:
2' x 4' (or 24" by 48")
3' x 6' (or 36" by 72")
4' x 8' (or 48" by 96")
In this instance a 3' x 6' banner is a good usable size. It's one of those banners that you visibly see whether you're far away or close, but at the same time, it's not too large to affect its portability.
The sizes mentioned above should do the job for most purposes, but if you have a more specific purpose, it's best to use a 1:2 ratio for designs with more than two text lines and a 1:3 ratio for designs with bigger logos and minimal words. Also, for hanging banners between two poles of a tent, the 4' x 10' banner size would be ideal.
Tip: A 10" text height grants you approximately 100' of distance for easy readability, so you want to consider how far you want your audience to be able to read the banner. If you add simply one inch of letter height, you add 10 feet of readability in return.
Design Proofs
Design proofs are representations of how your banners will look once they're printed. The design proof stage is a vital one, especially if you're printing custom banners. Why? Because simply, they enable you to confirm the final product before it goes to print. It's always easier to make any alterations before the printing process is executed!
At 1 Day Banner, you can easily request design proofs. We first send you a digital representation of the banner via email for approval, and once you approve, the banner is printed and shipped. We send you the design proofs on the same or next business day, depending on when you place your order. Also, banners exceeding 4 feet in height will be folded to ship.
Note: If you choose the "print as is" option and don't request a design proof, we print banners fast, so you should only select this option if you're confident that the banner is error-free before printing (spelling, grammar, fonts, colors, design, layout, etc.) While maybe risky, "print as is" banners are shipped faster.
FAQ - Frequently Asked Questions

What Are Banners Made Out of?
We use high-quality vinyl material for the production of our banners at 1 Day Banner. To be exact, our banners are made of 13-ounce, premium, durable vinyl cloth, which is known to be a robust fabric with superb outdoor dependability.
To give you an idea of their reliability, 13-ounce vinyl lasts from three to five years on average and is suitable for both indoor and outdoor usages in typical everyday environments. What's more, this type of material empowers us to provide you with the ideal combination of print quality and affordability without having to forgo one for the other.
Make your banner pop!
Where to Get a Banner Made?
When it comes to making your banner, you can either design it online on our website using user-friendly tools or hire a designer to have it made. If you decide to go for the first option, our available clip arts allow for a seamless experience where you have endless possibilities to suit your specific needs.
Alternatively, at 1 Day Banner, you can order Text Banners where you can specify all the elements, including text, font, and colors, and we'll design the banner on your behalf and email you a design proof for approval (upon request) before we proceed with printing.
Where to Buy Banner?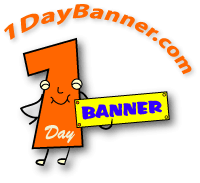 Have you been searching for "Banners Near Me"? Look no further, buy banners at 1 Day Banner because we ship nationwide!
You need to make sure you're choosing a professional supplier, especially if you're seeking a large number of top-notch vinyl signs.
At 1 Day Banner, we pride ourselves in offering you the sweet spot between affordability and quality. We provide you with the added option of customizing your designs, too – be it through uploading or designing them through the website. Plus, we specialize in next day banner printing, so if you need overnight banners, we're ready!
What Is a Standard Banner Size?
Some standard sizes include 2' x 4', 3' x 6' and 4' x 8'.
However, as we've discussed previously, there isn't exactly a "standard" in the world of banners, but there are some sizes that are more in demand than others. At 1 Day Banner, we have over 200 banner sign sizes, ranging from 2' x 4' up to 10' x 30'. Check out our banner sizes page for various standard horizontal and vertical banner sizes as well as other popular sizes.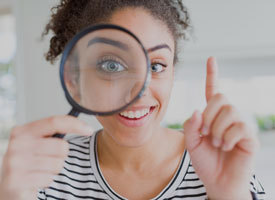 Always remember that your choice of banner size ultimately depends on how you intend to use the banner signage in the first place. For instance, for a birthday, you'd use a smaller-sized vinyl sign, while for event promotions, you'd likely use much larger ones to get maximum exposure and reach.
And as a golden rule: the farther the audience, the larger the banner needs to be. Also, in general, indoor banners are relatively smaller as opposed to outdoor ones.
How Much Does a Banner Cost?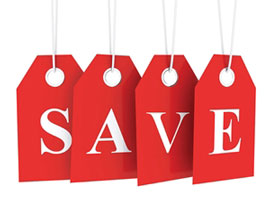 On 1 Day Banner, a single banner could cost anywhere between $20-$100+, depending on several factors. Such factors include the banner size, whether it's single or double-sided, whether you request a design proof, the quantity, whether you request pole pockets or wind slits, whether you're placing a special order, and more.
However, the given is that you're certainly getting low prices and the best value, nonetheless. They're among the lowest in the industry (nearly half-priced compared to many local vendors), and we assure you that the low prices are merely an indication of the banners' prices but not their quality by any means.
How Do You Display a Banner?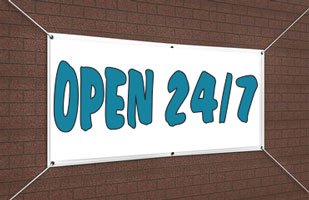 After you've made your order and it's time to decide how to display it, you'll be presented with a multitude of options! However, don't worry; it's a simple process, thanks to the general availability of hanging accessories! You can display a banner using bungee cords, zip ties (carabiners), suction cups, Velcro adhesive strips, and nylon ropes.
With the support of these accessories, you could hang your banner virtually anywhere, including walls, fences, from a flagpole, between posts, on front of a table, from the ceiling, on the exterior of a building, and much more! The sky's the limit!
Need some installation tips? View our How to Hang a Banner guide!
How to Clean a Banner?
Cle

aning a banner is essential if you're looking to display it for long periods. Since vinyl is made of plastic, known as polyvinyl chloride (PVC), it's actually resistant to moisture and humidity. What's more, that makes it easier to clean if you use the right products.
To c

lean a banner, simply use mild soap and water. Prepare a mix beforehand and start cleaning your banner with a non-abrasive cloth, but be gentle and don't "scrub" the banner to avoid ink stains. Alternatively, you could use Windex or window cleaning solutions (but not detergents or aggressive solutions).
But it's important to remember to dry the banner using a towel before storing it again!
Tip: Avoid folding the banner right after cleaning it – that can damage your print! Instead, store it in a container in a cool place, unexposed to the sun.
How to Store a Banner?

We highly recommend rolling your banner to store it instead of folding it if you're planning on storing it for a long time. Folding could potentially leave unwelcomed creases and harm the banner's overall look!
Plus, for the best storage, it's always a good idea to clean the banner before putting it away. But take care not to have parts containing ink touch each other so that they won't rub off or stick together. That's especially so in warmer weather conditions.

Tip: Don't be tempted to throw your banner's shipping box away as soon as you unbox it; you never know when you'll need it! Save it and potentially use it to store the banner for future use – that way, you're guaranteed that it'll stay clean and in good condition.
Are Banners Waterproof?
Yes! Vinyl, or PVC banners, are made of tremendously high-quality material and are waterproof. As we've discussed, the material is rip, tear, moisture, and humidity-resistant, making them ideal for outdoor usage, even during storms and strong winds.
But what many people don't know is that vinyl is also a waterproof material, so the concerns of your print fading or running shouldn't be on your mind. Plus, with the support of hanging accessories, you can adequately secure the banner to ensure it won't droop in rainy weather.
Also, it's for that very water-resistance reason that banners could actually be cleaned with mild water – simply because there can be no damage to them!
How Long Do Banners Last?
At 1 Day Banner, our banners generally last at least up to three years if they're used outdoors, and that duration can be extended if used indoors.
However, since there's no "one-size-fits-all" banner, the exact duration ultimately depends on where it's displayed, the display duration, the external factors, how the banner is cleaned, how it's stored, the hanging accessories used to hang it, and much more. It's challenging to narrow down exactly how long a banner can last.
Banner Types and Usage
and much more!
Stock Designs and Ideas

Ready-to-Print Stock Banners: 4th of July, Anniversary, Christmas, Congratulation, Easter, Grand Opening, Memorial Day, Retail/Business, Retirement, St. Patrick's Day, Thanksgiving, Valentine's . More stock designs coming soon!
Popular Design Ideas: Baby Shower, Band & Music, Baseball, Basketball, Birthday, Black Friday, Celebration, Church, Coronavirus (Covid-19), Event, Family Reunion, Fathers Day, Fitness, Football, Graduation, Halloween, Hockey, Labor Day, Mothers Day, New Year, Parade, Party, Patriotic, Real Estate, Restaurant, Sale, School, Soccer, Sports, Spring, Stadium, Team, Thank You, Trade Show & Conference, Veterans Day, Wedding, Welcome. The possibilities are virtually endless!
Popular Background Colors: Black, Blue, Brown, Gray, Green, Orange, Pink, Purple, Red, White , Yellow. Additional colors available!
Conclusion
That's everything to know before buying your next banner! We hope our buyer's guide has come in handy to help you make the right decision and that our FAQs answered all the lingering questions you must've had about printing banners.
Remember, qualified help from the 1 Day Banner team is closer than you think! Don't hesitate to contact us to support you with your upcoming order if you feel like one of your questions hasn't been answered. We make a point to provide you with equally as fast responses as our shipping, so reach out anytime!