| | | | |
| --- | --- | --- | --- |
| Hi-Quality Digitally Printed & Shipped in 1 Day | | | Indoor/Outdoor Use up to 3 Years |
| Premium 13 ounce Vinyl Banner Material | | | Waterproof & UV Protected |
Need a Vinyl Banner with Wind Slits? Order Now . . .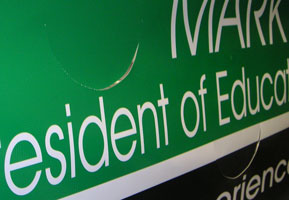 If you've ever seen "half-moon-like" cuts in vinyl banners, those are wind slits. They're cut to allow wind to pass through the banner freely to reduce the wind load and strain on the banner. The idea of reducing the wind load is to prevent the banner from wearing and tearing due to the wind strength by allowing wind to pass through it instead.
Tip: Just like with pole pockets, take care of the place of text and images on your banner relative to the placement of the wind slit or slits. Plus, if you're cutting the slit to hang the banner outdoors on a road or freeway, remember to consult your city administration on restrictions.
It's also worth mentioning that sometimes, wind slits can cause premature rips if the wind is excessively strong, but it ultimately depends on your location. In the majority of cases, wind slits actually extend the banner's lifespan.
At 1 Day Banner, you can request U-shaped slits into your banners to allow the wind to pass through freely!