| | | | |
| --- | --- | --- | --- |
| Hi-Quality Digitally Printed & Shipped in 1 Day | | | Indoor/Outdoor Use up to 3 Years |
| Premium 13 ounce Vinyl Banner Material | | | Waterproof & UV Protected |
Need a Vinyl Banner with Wind Slits? Order Now . . .
A business needs exposure. It is one of the most important elements in the recipe for success. But what is the best (and cost-effective) way of getting exposure?
Display banners are the fastest and most affordable way to let the "word out." It can help your business get the attention of hundreds of people very quickly. While there are different types of banners, for now we will focus on banners with wind slits.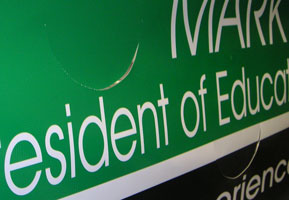 If you've ever seen "half-moon-like" cuts in vinyl banners, those are wind slits. They're cut to allow wind to pass through the banner freely to reduce the wind load and strain on the banner. The idea of reducing the wind load is to prevent the banner from wearing and tearing due to the wind strength by allowing wind to pass through it instead.
Tip: Just like with pole pockets, take care of the place of text and images on your banner relative to the placement of the wind slit or slits. Plus, if you're cutting the slit to hang the banner outdoors on a road or freeway, remember to consult your city administration on restrictions.
It's also worth mentioning that sometimes, wind slits can cause premature rips if the wind is excessively strong, but it ultimately depends on your location. In the majority of cases, wind slits actually extend the banner's lifespan.
At 1 Day Banner, you can request U-shaped slits into your banners to allow the wind to pass through freely.
Uses
Banners with slits mostly find their use in the advertising industry. Since they have slits to prevent damage from the wind, they are used near freeways and busy roads to capture people's attention.
Here are all the real-life uses of banners with slits:
Event Advertising: These banners are often used for advertising events such as concerts, festivals, and sports games. They can be displayed at the event venue or along busy roads to increase visibility and attract a large audience.
Retail Advertising: Retail stores and shopping centers can use them to promote sales, new products, and services. These banners can be hung above the storefront or along busy sidewalks to attract foot traffic.
Real Estate Advertising: Real estate agents and property managers can use these banners to advertise open houses, new developments and rental properties. They can be hung on construction sites, outside the property, or along busy roads to increase visibility and attract potential buyers or renters.
Types of Banners and the Advantages of Wind Slits
Let's take a look at some different types of banners and what they offer:
So what makes banners with wind slits different? These banners have slits or cuts in the material that allows wind to pass through, reducing wind resistance and the likelihood of the banner tearing or becoming damaged in windy conditions.
Wind slits are typically placed along the length of the banner and are evenly spaced apart to distribute wind evenly across the banner's surface.
This design helps to reduce the amount of stress on the banner, making it more durable and long-lasting. Each wind slit allows air to easily pass without any restrictions.
These banners are commonly used for outdoor advertising, event promotions, political campaigns, real estate advertisements and other public display purposes.
They can be used near a freeway and other locations that have high wind conditions. The wind force does not affect the vinyl banner structure due to the wind holes allowing wind through.
Eye-Catching Design
What makes banners stand out? First, it is important to understand that not every banner is made the same way. The material quality, the printing process, the choice of ink and the technology all play major roles.
At 1 Day Banner, we use high-quality ink and banner  material to ensure that the colors pop and the images stay crisp. With advanced banner printing technology and precise cutting methods, we ensure that all the banners we produce are top of the line.
Questions and Answers
How much do banners with wind slits cost?
The price range of these banners can vary a lot depending on various factors such as the materials used, print quality and most importantly the size of the banner. Expect anywhere from $20 to $500 for massive billboard sized banners.
How long does a banner with wind slits last?
Since banners with slits have the modification, they often last for over three years.
Can banners with wind slits be used outdoors?
These type of banners are specially made to be used outdoors where the wind is strong.
How do I install a banner with wind slits?
If the banner size is small, you can install it using some basic tools and a ladder. For large banners or installations in high places, it is recommended that you contact a professional.
Can banners with wind slits be printed with custom designs and logos?
Yes, theses banners can be printed with custom designs, logos, images, etc.
Conclusion
A banner with slits can be the perfect choice for your business promotions because you get the added benefit of the wind protection. The slits do a great job of reducing the drag from the wind.
The idea behind creating slits is to reduce the wind pressure on the banner and prevent flaps. Wind slits extend the durability and lifespan of the banner.  So, if you are going for large banners, having wind slits in it is a better option.
With high-quality printing, vibrant colors, and crisp text, these banners can help your business become eye-catching and successful.