| | | | |
| --- | --- | --- | --- |
| Hi-Quality Digitally Printed & Shipped in 1 Day | | | Indoor/Outdoor Use up to 3 Years |
| Premium 13 ounce Vinyl Banner Material | | | Waterproof & UV Protected |
Banners with Pole Pockets
Need a Vinyl Banner with Pole Pockets? Order Now . . .
The best investment for your business or service is often the simplest one. Consider banners as an example. They are a relatively cheaper way of getting the attention of many people.
Banners with pole pockets are a type of vinyl banner used for advertising, events, or promotional purposes. Made from durable, waterproof vinyl material, they feature a pocket along the top or bottom edge into which a pole can be inserted.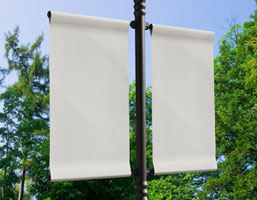 Pole pockets refer to material wrapped around the banner, usually around its backside, and welded using heat or white pockets attached to banners with super strong banner tape and grommets to create a 2 inch seam. Essentially, a pole pocket leaves room for a pole or rope to pass through the loop of material. Pole pockets can be on the top, bottom, or sides only, both top and bottom, left and right sides only, or on all sides of a banner.
This modification allows the Banner to be hung from a pole, making it an ideal option for outdoor events, trade shows, and other public gatherings. The modifications can vary. Some vinyl banners come with double-sided pole pockets (allowing double-sided printing).
At 1 Day Banner, we offer pole pockets for the top, bottom, left, and right sides of your banner. Your choice ultimately depends on how you want to hang the banner. You'll mostly find pole pockets used on either lamp posts or scaffoldings to fasten the banners to them since they're quite flexible.
Tip: Always keep the essential text and images at least 3 inches far from the banner's edge to avoid a suture running through it. Also, remember that the pole pocket shouldn't be too tight around the pole to prevent extra pressure that could lead it to break altogether.
1 Day Banner is the expert in providing the banners fast with crisp print and vibrant colors that catch people's attention. In addition, our choice of material ensures that the banners last longer.
Uses
The strong and durable pole banners we make are some of the most versatile ones you can use for your business promotions. Whether an event or just simple advertising, everything fits perfectly with these banners.
Let's look at the different uses of these banners and why you should consider them for your promotional needs.
Pole banners are large banners mounted on poles or light posts (hence the pole pockets). While there are many other options, pole banners are mostly suitable for the following:
Advertising: Advertising and promoting businesses, events, products, or services is the most common use of these banners due to the ease of installation, less space consumption and affordability.
Wayfinding: Used when a business or an organization is planning an event that requires a guide to help people find a way.
Decoration: These banners can add color and interest to an area, such as a downtown street or campus. Make sure that you choose a high-quality print to ensure it looks good.
Community branding: They can be used to promote a community's brand, such as a city or neighborhood, by featuring its logos, symbols or slogans.
Sports branding: Sporting events need a lot of visual elements such as team logos, texts, directions, etc. These banners are the perfect choice to serve this purpose.
Overall, these pole pocket banners are a flexible and cost-effective way to add visual interest and promote various messages in a public space.
Types and Advantages of Banners
Different events and different businesses require different types of promotional banners:
Made of lightweight, durable material such as polyester or nylon
Has pros for being able to be installed and transported easily as these banners fold.
Outdoor use is fine, but not in windy or harsh weather conditions. Best used indoors.
These vinyl banners are designed with slits or pockets along the top and bottom, allowing them to be easily hung from poles or ropes
It can be printed with large graphics or images
Best used for outdoor advertising and event promotions
They are designed to be seen from both sides, making them ideal for use in high-traffic areas
It can be hung vertically or horizontally
Best used for advertising and promotions near roads and freeways.
They are designed with metal grommets along the top and bottom, allowing people to hang them easily
So where do vinyl banners with pole pockets stand in terms of benefits?
The pole pocket is typically reinforced for added strength, ensuring that the Banner can withstand wind and other weather conditions.
These Banners can be printed with custom graphics and text, making them a versatile and cost-effective way to reach a large audience.
The other great thing about these banners is that they can be installed on any pole, even light poles. While they are meant for outdoor installations, they can also be installed indoors.
These banners can be made in various sizes and shapes to meet the needs of different events and locations.
Eye-Catching Design for High Visual Impact
The printing process for these banners typically involves the following steps:
Design: The design of a pole banner is created using graphic design software. The graphic size is checked.
Printing: The high-resolution graphics are printed onto a durable, waterproof polyester or vinyl using large-format digital printers.
Finishing: The printed result for the banner is then cut to size, and pole pockets (top, bottom or sides) are added to the Banner.
Quality control: The finished banner is inspected for defects or issues, such as misaligned printing or incorrect colors.
Overall, the printing process for banners involves combining high-quality printing technology with careful attention to detail and quality control to produce eye-catching and durable banners that can be easily displayed in various settings.
Frequently Asked Questions
How much does a banner with pole pockets cost?
The price of the banner depends on the specifications. For custom sized, small banners and pole pockets could be priced around $50 to $100, while large banners can cost as much as $1,000 or more.
How long does a banner with pole pockets last?
The banner can last for over three years with good care and maintenance (and if the Banner is not exposed to harsh weather).
Can banners with pole pockets be used outdoors?
Yes, these banners are made to be used outdoors.
How do I install banners with pole pockets?
As the name suggests, you need poles to install these banners. While you can do it yourself, often it is better to consult a professional with the proper set of tools for the installation process.
Can banners with pole pockets be printed with custom designs and logos?
Yes, at 1 Day Banner, we offer a custom printing service to let you print your designs, images, logos, etc., on the banner with high-quality printing methods. You decide the banner size, and we produce using high-quality banner material.
Conclusion
In conclusion, a banner with pole pockets is a versatile and effective way to promote businesses, events, products, or services.
They are a great investment for businesses and organizations looking to promote themselves in a public space. With their durability, versatility, and affordability, banners are an effective and efficient way to spread your message quickly. While many companies usually offer 2-day banners or longer turnaround times, we even offer same day banner printing upon request,