| | | | |
| --- | --- | --- | --- |
| Hi-Quality Digitally Printed & Shipped in 1 Day | | | Indoor/Outdoor Use up to 3 Years |
| Premium 13 ounce Vinyl Banner Material | | | Waterproof & UV Protected |
Banners with Pole Pockets
Need a Vinyl Banner with Pole Pockets? Order Now . . .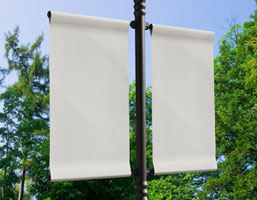 Pole pockets refer to material wrapped around the banner, usually around its backside, and welded using heat or white pockets attached to banners with super strong banner tape and grommets to create a 2 inch seam. Essentially, a pole pocket leaves room for a pole or rope to pass through the loop of material. Pole pockets can be on the top, bottom, or sides only, both top and bottom, left and right sides only, or on all sides of a banner.
At 1 Day Banner, we offer pole pockets for the top, bottom, left, and right sides of your banner. Your choice ultimately depends on how you want to hang the banner. You'll mostly find pole pockets used on either lamp posts or scaffoldings to fasten the banners to them since they're quite flexible.
Tip: Always keep the essential text and images at least 3 inches far from the banner's edge to avoid a suture running through it. Also, remember that the pole pocket shouldn't be too tight around the pole to prevent extra pressure that could lead it to break altogether.