| | | | |
| --- | --- | --- | --- |
| Hi-Quality Digitally Printed & Shipped in 1 Day | | | Indoor/Outdoor Use up to 3 Years |
| Premium 13 ounce Vinyl Banner Material | | | Waterproof & UV Protected |
Need a Vinyl Banner with Hemming? Order Now . . .
Your business needs attention to get on track. Without attention, businesses just lose money. While advertising is the way to get it, there is a better way to get the attention of the local audience; banners.
Banners are versatile and cost-effective forms of advertising that can be used in various ways to promote an event or business. A large banner can get the attention of hundreds of people at once.
When using banners for advertising, it's important to ensure that the design is eye-catching and the message is clear and concise. 1 Day Banner specializes in producing high quality banners quickly.
When it comes to hemmed banners, it needs to be done the right way. Our banners with hemming have high tensile strength and incredible durability to ensure they last longer, even in harsh weather conditions.
Banner hemming is when around 1 inch of extra material is folded and bonded, using tape or a sewing machine, around the banner's edges (the four sides).
This technique, called hemming (the fold), provides a finished look to the banner and helps prevent the banner from fraying. Hemming also makes the banner stronger and more durable, making it suitable for various uses.
Hemming vs. No Hemming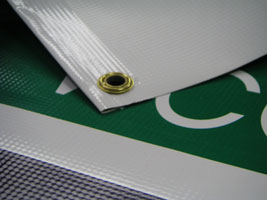 Hemming a banner reinforces the edges of the banner to make it more durable and resistant to tearing. If a banner will be displayed outdoor, then it is almost always a good choice to have the banner hemmed. If the banner is smaller in size and will be placed indoor, then hemming is not always essential.
Usually, hemming bonds two vinyl layers to result in double thickness and strength for the banner, contributing to its durability and resistance to wind, UV, and tearing. These are overall more substantial signs that are suited for extended and outdoor use.
Without hemming, a banner becomes suitable for print only, limiting your hanging possibilities to purely indoors (on a wall, for example) and restricting your size possibilities since the edges aren't reinforced.
Uses
Trade show displays: The most common uses of any type of banner are trade shows and exhibitions. There are thousands of people in attendance at these shows.
Your business must catch the attention of the people. This attention-grabbing can be done using the right type of banner. Choosing a banner with a hem ensures that they remain the way they have been installed.
Outdoor advertising: The number one importance of hemming a banner is that it adds strength and durability. This quality makes it a wonderful option for outdoor advertising.
Harsh weather conditions, rain, sun exposure, wind, etc., can affect the banner if they are not strong. Hemming reinforces the strength of the banner, making it more suitable for outdoor advertising.
High-Quality Printing
At 1 Day Banner, we use digital printing technology to create high-quality and vibrant prints on banners. Our printing process uses high-quality, fade-resistant ink that ensures your banner will look great for years to come.
Our state-of-the-art printers use precise and accurate digital printing to produce images with sharp details, vivid colors and smooth gradients.
This process allows us to produce large format banners with consistent and high-quality graphics, ensuring that your message will be displayed in the best possible way.
By combining our printing technology with the durability and strength of hemmed banners, we can create both eye-catching and long-lasting banners.
Frequently Asked Questions
How much do banners with hemming cost?
As with all other types of banners, several factors, such as the size of the banner and the material used affect the price. You can expect a range from $50 to as high as $1,000.
How long does a banner with hemming last?
As the edges are folded and sewn, it increases the longevity of the sides of a banner. This way they can withstand rough wear and tear. If taken care of properly, banners can last over five years.
Can banners with hemming be used outdoors?
Yes, these banners can be used outdoors as that is what they are primarily made for.
How do I install a banner with hemming?
Installing a banner can be easy and a one-person job only if the banner size is small and manageable. However, for larger-sized banners, it is recommended that you have someone help you or consult a professional.
Can banners with hemming be printed with custom designs and logos?
Yes, banners can be printed with custom designs, logos, artwork, images, etc.
Conclusion
If you are looking for premium banners, made with high quality materials, and delivered to you at blistering speed, then choose us for your next day banner printing needs.
These banners are durable, strong, resistant to wear and tear, and excellent for any outdoor display or advertisement. So if strength and durability are what you are looking for, then choose a banner with hemming.