| | | | |
| --- | --- | --- | --- |
| Hi-Quality Digitally Printed & Shipped in 1 Day | | | Indoor/Outdoor Use up to 3 Years |
| Premium 13 ounce Vinyl Banner Material | | | Waterproof & UV Protected |
Need a Vinyl Banner with Hemming? Order Now . . .
Banner hemming is when around 1 inch of extra material is folded and bonded, using tape or a sewing machine, around the banner's edges (the four sides).
Hemming vs. No Hemming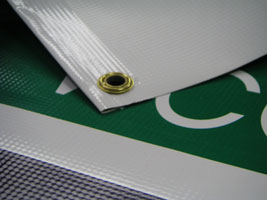 Hemming a banner reinforces the edges of the banner to make it more durable and resistant to tearing. If a banner will be displayed outdoor, then it is almost always a good choice to have the banner hemmed. If the banner is smaller in size and will be placed indoor, then hemming is not always essential.
Usually, hemming bonds two vinyl layers to result in double thickness and strength for the banner, contributing to its durability and resistance to wind, UV, and tearing. These are overall more substantial signs that are suited for extended and outdoor use.
Without hemming, a banner becomes suitable for print only, limiting your hanging possibilities to purely indoors (on a wall, for example) and restricting your size possibilities since the edges aren't reinforced.