Product Description
How to Add Your Logo, Photo or Other Image to your Text Banner

You can attach up to TWO Images to your Text Banner. The image can not cover more than 25% of the design. The attachment must meet our Artwork Specifications below.
1) Choose the quantity of Images you want from the option "Attach Your Image/Logo to Your Banner?". Each image will cost $15. We will attach a maximum of two images per banner.
2) Choose the location from the option "Where Do You Want Image/Logo Placed?"
3) Complete your order.
4) Once your order is complete and you have your Order ID number, go to CONTACT US (link is on top of every page), choose OPTION 3 "Sign and Banner File Upload" and upload your file.
Note: Please contact us in advance if you have questions.
Artwork Specifications:
1) Save your file as PDF, JPEG or PNG between 100-200 dpi. Design in CMYK color mode.
2) Convert all Fonts to Outlines. Flatten your design. No Bleed is required. No Watermarks.
3) JPEG/PNG File Uploads must be Minimum 500 KB. Maximum file size is 20 MB. Upload each design separately.
4) Do not link, password protect, or lock your design.
5) Remove all invisible objects outside the Design Box.
6) Our system operates on Windows. Make sure Mac files open in Windows correctly.
7) For security reasons, we cannot accept e-mailed files or file download links. Please upload your file using our upload system.
---
Available Colors


Actual Colors Vary Slightly
---
Available Fonts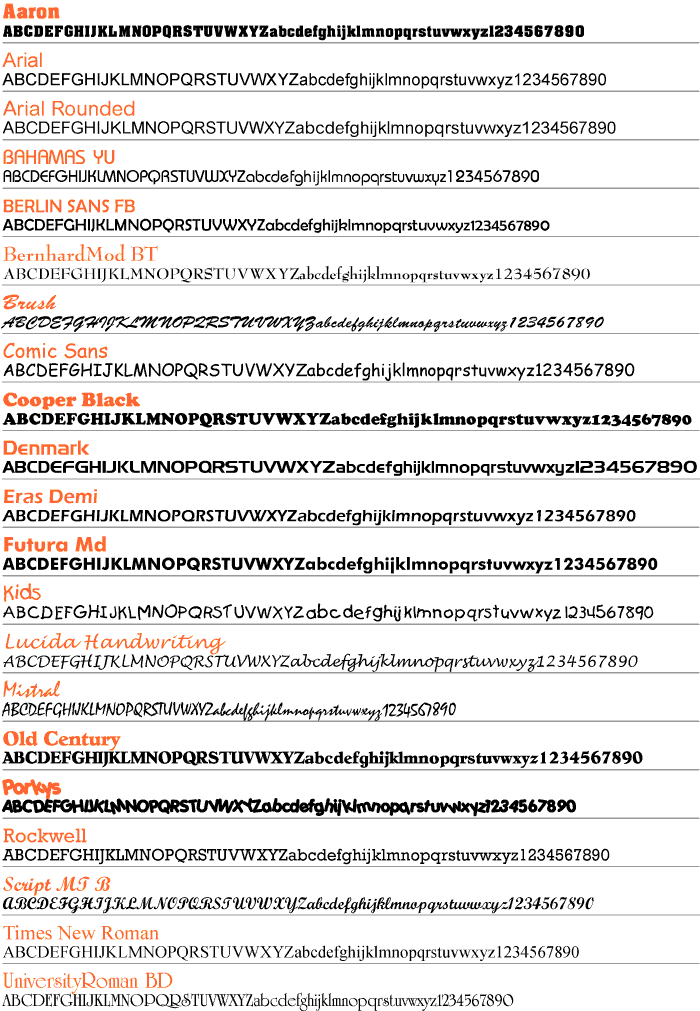 ---
Available Single-sided Text Banner Sizes

2′ x 4′, 2′ x 5′, 2′ x 6′, 2′ x 7′, 2′ x 8′, 2′ x 9′, 2′ x 10′, 2′ x 11′, 2′ x 12′, 2′ x 13′, 2′ x 14′, 2′ x 15′, 2′ x 16′, 2′ x 17′, 2′ x 18′, 2′ x 19′, 2′ x 20′, 2′ x 21′, 2′ x 22′, 2′ x 23′, 2′ x 24′, 2′ x 25′, 2′ x 26′, 2′ x 27′, 2′ x 28′, 2′ x 29′, 2′ x 30′
3′ x 4′, 3′ x 5′, 3′ x 6′, 3′ x 7′, 3′ x 8′, 3′ x 9′, 3′ x 10′, 3′ x 11′, 3′ x 12′, 3′ x 13′, 3′ x 14′, 3′ x 15′, 3′ x 16′, 3′ x 17′, 3′ x 18′, 3′ x 19′, 3′ x 20′, 3′ x 21′, 3′ x 22′, 3′ x 23′, 3′ x 24′, 3′ x 25′, 3′ x 26′, 3′ x 27′, 3′ x 28′, 3′ x 29′, 3′ x 30′
4′ x 4′, 4′ x 5′, 4′ x 6′, 4′ x 7′, 4′ x 8′, 4′ x 9′, 4′ x 10′, 4′ x 11′, 4′ x 12′, 4′ x 13′, 4′ x 14′, 4′ x 15′, 4′ x 16′, 4′ x 17′, 4′ x 18′, 4′ x 19′, 4′ x 20′, 4′ x 21′, 4′ x 22′, 4′ x 23′, 4′ x 24′, 4′ x 25′, 4′ x 26′, 4′ x 27′, 4′ x 28′, 4′ x 29′, 4′ x 30′
5′ x 4′, 5′ x 5′, 5′ x 6′, 5′ x 7′, 5′ x 8′, 5′ x 9′, 5′ x 10′, 5′ x 11′, 5′ x 12′, 5′ x 13′, 5′ x 14′, 5′ x 15′, 5′ x 16′, 5′ x 17′, 5′ x 18′, 5′ x 19′, 5′ x 20′, 5′ x 21′, 5′ x 22′, 5′ x 23′, 5′ x 24′, 5′ x 25′, 5′ x 26′, 5′ x 27′, 5′ x 28′, 5′ x 29′, 5′ x 30′
6′ x 4′, 6′ x 5′, 6′ x 6′, 6′ x 7′, 6′ x 8′, 6′ x 9′, 6′ x 10′, 6′ x 11′, 6′ x 12′, 6′ x 13′, 6′ x 14′, 6′ x 15′, 6′ x 16′, 6′ x 17′, 6′ x 18′, 6′ x 19′, 6′ x 20′, 6′ x 21′, 6′ x 22′, 6′ x 23′, 6′ x 24′, 6′ x 25′, 6′ x 26′, 6′ x 27′, 6′ x 28′, 6′ x 29′, 6′ x 30′
7′ x 4′, 7′ x 5′, 7′ x 6′, 7′ x 7′, 7′ x 8′, 7′ x 9′, 7′ x 10′, 7′ x 11′, 7′ x 12′, 7′ x 13′, 7′ x 14′, 7′ x 15′, 7′ x 16′, 7′ x 17′, 7′ x 18′, 7′ x 19′, 7′ x 20′, 7′ x 21′, 7′ x 22′, 7′ x 23′, 7′ x 24′, 7′ x 25′, 7′ x 26′, 7′ x 27′, 7′ x 28′, 7′ x 29′, 7′ x 30′
8′ x 4′, 8′ x 5′, 8′ x 6′, 8′ x 7′, 8′ x 8′, 8′ x 9′, 8′ x 10′, 8′ x 11′, 8′ x 12′, 8′ x 13′, 8′ x 14′, 8′ x 15′, 8′ x 16′, 8′ x 17′, 8′ x 18′, 8′ x 19′, 8′ x 20′, 8′ x 21′, 8′ x 22′, 8′ x 23′, 8′ x 24′, 8′ x 25′, 8′ x 26′, 8′ x 27′, 8′ x 28′, 8′ x 29′, 8′ x 30′